Where Innovation turns into POWER...
The Right Place with the Right Tools...

Cheapest Web Software offers unique and innovative sets of software and tools for webmasters. Our products are invaluable to the professional or to the starter webmaster alike, ranging from the simplest website add-on to the powerful database web applications to enhance your websites! Compatible with any modern web hosting company, our software require no programming or experienced knowledge to install and operate. It can be ready to go at your website in minutes! [
Learn More...
]
---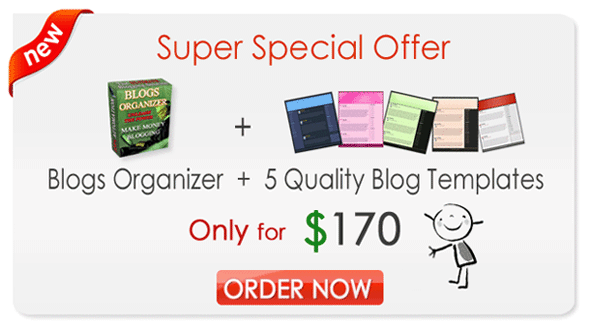 ---
Blogs Automater

EFFORTLESSLY Turn ON the Auto Pilot on All Your Blogs and Turn them to 100% Automated Revenue EXPLODER Cash Machines! Don't waste your valuable time searching the web for any other smoked out blogging solutions, Blogs Automater is the ULTIMATE blogs automation solution you ever will need! It is a blog automation solution that enables webmasters and SEO professionals to rapidly build an empire of keyword targetted blogs. No matter if you want to create new blogs or have old established blogs, you can put them on auto pilot pretty easily just in few minutes! Automatically build blog posts by pulling RSS & ATOM feeds. Blogs Automater handles all the necessary work for you! It grabs fresh content for your blogs. It rewrites blogs posts, it customizes them. It automatically publishes blog posts to your blogs. Operate Your Own Money Making Blogging Empire The Easy and Completely Automated Way!
---
Blogs Organizer

The One and Only Software You Will Ever Need to Operate Network of Thousands of Money Making Blogs Completely Automated! Stop loosing time and money now, start using Blogs Organizer today! Give your business a new and more powerful way to manage Blogs! Revolutionary way of operating Blogs from now on! Grow bigger, faster and smarter. Capture more traffic and make more money! Maximize your search engine traffic and exposure to the MAX! Internet is a "volume" business and must be treated as such! The more blogs you are able to operate the more money you get in your pocket! Smart guys nowadays publish hundreds of blogs a day and are taking over the Search Engines top listings and making loads of money from this. Don't wait, be one of them, be a smart guy making a solid daily revenue with Blogs Organizer!


Affiliate Module
introduced as extension to Blogs Organizer! Start producing now Affiliated (Sponsor Hosted) Blogs and Shockingly Boost Up your Affiliate Program! Experience the power of the next-level affiliate promotional tool!
Breakthrough Money-Making Affiliate Promotional Tool Uncovered!

---
Links Organizer

The Very First Software to Give You ULTIMATE Control over thousands of link exchanges and lots more! Links Organizer is the ULTIMATE linking multidomain based solution. With complete link exchange automation and many other features, this is the most comprehensive and user-friendly link exchange software solution on the market. It is built for the search engines to help improve your search engine rankings, boost up your Page Rank, traffic, and sales! Links Organizer is one of the fastest and easiest ways to automate your link exchange process. More advanced than any other link exchange software without any doubts! Effortlessly EXPLODE your site PR and Increase your site Traffic and Search Engines listings! Link Exchanging has never been easier with Links Organizer! That's why You really need this piece of software!

LinkEX Exporter
introduced as FREE utility to export all your linktrades from LinkEX scripts with a total ease. One click export for all you trades. Links Organizer users receive their trades in ready for copy & paste to import to Links Organizer

---
Rocket Pinger

Drive Instant Massive Traffic To Your Sites The FREE, Easy and Completely Automated Way! Generate excellent amount of traffic for FREE and without any special skills or knowledge. Open the doors and invite the search engines to your sites. The shockingly simple and FREE way to explode your website traffic and sales. Rocket Pinger automates the dirty work for you - You enjoy life, Rocket Pinger brings in instant traffic to all your websites! This is the fastest way nowadays to start bringing quality traffic! Skip the big waiting and low trafficed period when starting a new site! Let ALL of your pages spidered and indexed in the search engines within mere days! All this made available by the revolutionary "blog and ping" technique and Rocket Pinger to automate to 100% the whole process!
---
Feeds Observer

The Very First Feeds Traffic Tracker & Analyzer Software! DISCOVER your feeds quality and Increase your Earning Potentials through feeds! Feeds popularity and usage are rapidly growing, and not knowing anything about their usage is a complete waste of efforts! With Feeds Observer You easily see your incoming traffic, your traffic sources, your most clicked links inside your feeds and lots more.. Knowing your usage of your feeds, helps you to improve them and expand your revenues! Track & Analyze various detailed traffic statistics for all your feeds accurately, easy and automatically! Most advanced webmasters started tracking & analyzing their feeds and took advantage of the Profits Inside! Don't wait any longer, take advantage of the Proven Results right NOW!